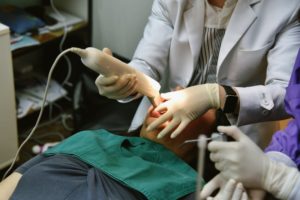 You know you need a new dental crown for your dental implant, but you dread the thought of having to go through putty impressions. Perhaps you've had a bad experience in the past or you simply don't like how it feels in your mouth. Then, your dentist takes out the iTero digital scanner.
If your dentist uses this technology, you can consider yourself fortunate! They obviously have invested in some of the industry's most cutting-edge technology to give you a better experience and better product. But what benefits does the iTero scanner really offer? Keep reading to find out!
Comfort
One of the most common complaints about traditional putty impressions is that they are uncomfortable. With this older method, putty has to be pressed hard against the teeth for several minutes, which often makes the patient gag.
Fortunately, the iTero scanner, which is a small device, fits easily inside your mouth, scans your upper and lower teeth within minutes, and the entire process is completed without
Accuracy
Like your fingerprints, your teeth are unique to you. As a result, your dentist can't use the same one-size-fits-all crown or veneer for every patient. The prosthetic has to look as if it belongs in the arch, complementing the size, shape, and color of the teeth surrounding it.
Unfortunately, with traditional impressions, mistakes happen often because the slightest move can result in an inaccurate impression. However, iTero impressions reduce the human error element, ensuring that the lab is given the best, most accurate information to produce your veneer, crown, or other product.
Bite Alignment
You may be wondering why the dental lab needs impressions of your upper and lower teeth if you are getting a restoration in one area. Well, it needs to not only fit in properly within the arch but also with the teeth it comes into contact with. If the bite alignment is thrown off, teeth can wear down more quickly, or you could also develop consistent jaw pain.
The iTero scanner captures measurements and all requisite information that enables the lab to craft a product that will not negatively alter your bite, helping you enjoy your smile for as long as possible.
Aesthetics
Even if you're undergoing restorative work, you probably want the finished product to look good and natural. For many patients, cosmetic concerns can carry just as much weight as function, and the iTero scanner takes aesthetics into account.
Instead of getting veneers or crowns that look out of proportion for the rest of your smile, you can have products that blend in seamlessly with the surrounding teeth.
While traditional impressions can be valuable, the scans obtained with iTero technology, the lab technician can design your restoration digitally, making even the slightest adjustments and realistic touches so that your smile looks naturally flawless.
In the end, with the iTero scanner, you can sit back and truly relax at your dentist's office and have the peace of mind that your crown will be just right for your unique smile.
About the Author
Dr. Steve Cha believes that education is never truly over. He takes more continuing education courses than is required by the state dental board and has earned certification with the Advanced Dental Implant Research & Education Center and has studied cosmetic dentistry through SPEAR Education, one of the nation's top training organizations in dentistry. He is proud to use an iTero scanner at his practice, Lake Forest Dental of McKinney. You can experience the difference it makes in your next appointment by contacting the office online or by calling 972-529-1800.