Dental Implants – McKinney, TX
The Next Best Thing to Having Your Natural Teeth Back
If you were to ask most dentists how they would recommend replacing missing teeth, the overwhelming majority of them – including our very own Dr. Steve Cha – would say dental implants. This solution is so lifelike that, after getting them, it will look and feel like you'd never lost any teeth in the first place. Our team at Lake Forest Dental is ready to help you enjoy a complete smile again by handling every step of the dental implant treatment process under one roof. Reach out to us today to schedule your consultation to discuss tooth replacement with dental implants in McKinney, TX!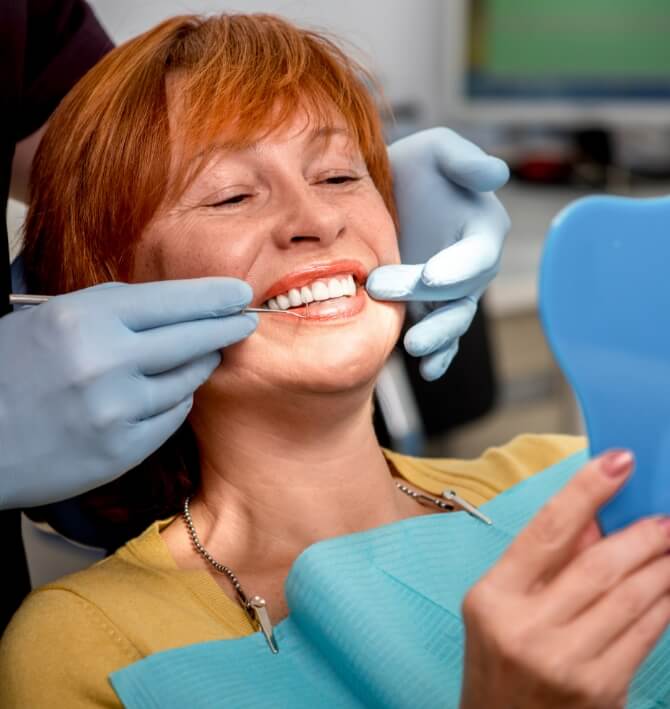 Why Choose Lake Forest Dental for Dental Implants?
Dental Implants Placed & Restored In-Office
3D Cone Beam Imaging Ensures Great Results
In-House Dental Membership Plan Available
What Are Dental Implants?
Dental implants are artificial tooth roots – usually made from titanium – that are anchored within your jaw to replace an absent tooth. Because of their biocompatible nature, implants are able to merge with your jawbone and function exactly like natural tooth roots. This strong foundation allows the implants to support a custom-made dental crown, bridge, or denture for decades to come.
The Dental Implant Process
For most patients, getting dental implants involves four basic steps. This includes the initial implant consultation to determine eligibility, the surgery where the gum tissue is opened and the implants are placed, the healing stage where the implants fuse with your jawbone and gums, and the placement of a permanent restoration, such as a crown, bridge, or denture. We'll go over each stage of your treatment so you're fully informed on what to expect, but you can also read about the stages below ahead of your consultation.
Initial Dental Implant Consultation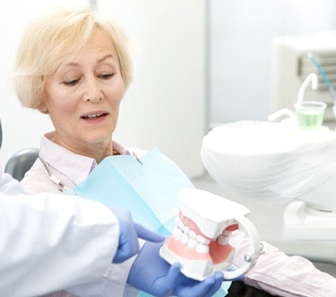 Dr. Cha will ask you about your goals for the treatment and review your medical and oral health history. Our team will also take X-rays and any other images we need to determine whether dental implants are right for you. If we learn that you need preparatory treatments completed before you can receive dental implants safely (i.e. bone grafting, gum disease therapy), then we'll create a plan to have these issues taken care of first. Afterwards, we'll revisit your eligibility. If you are able to receive dental implants now, we can start planning your surgery.
Dental Implant Surgery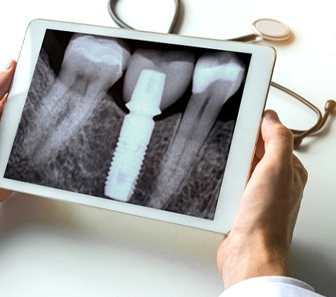 Because Dr. Cha can place implants himself, you'll be able to stay with the same team you already know and trust throughout the process. It also means there's no need to drive all over town just to have your teeth replaced with dental implants, making your experience all the more convenient. Ahead of surgery, your mouth is numbed with local anesthetic. Then, small incisions are created inside your gum tissue. Tiny holes are made inside your jawbone for the implants to fit into, the implants are placed, and your gum tissue is stitched closed. We'll go over your aftercare steps to ensure a smooth recovery over the next several days.
Dental Implant Osseointegration & Abutment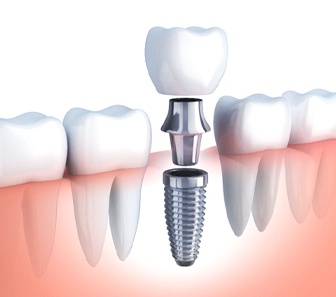 The implants will need time to heal and fuse with your jaw, which can take around four to six months. This process is called osseointegration and is one of the most important steps in your tooth replacement procedure. The fusion of titanium and bone is what enables the implants to last for decades without issue. When the implant has healed fully, you'll come back to our office to have an abutment placed. This metal connector provides additional stability and security to your permanent restoration. Once a couple more weeks of healing have occurred, you'll come back for one final visit.
Delivery of Dental Implant Restoration(s)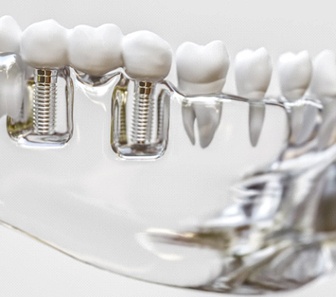 The final stage of your tooth replacement is the delivery of the permanent dental implant restoration. Depending on the number of teeth you're missing, we'll secure a dental crown, bridge, or denture onto your abutments. We make sure your restoration looks as natural as possible and fits comfortably before sending you on your way, so make sure to let us know if adjustments need to be made.
Benefits of Dental Implants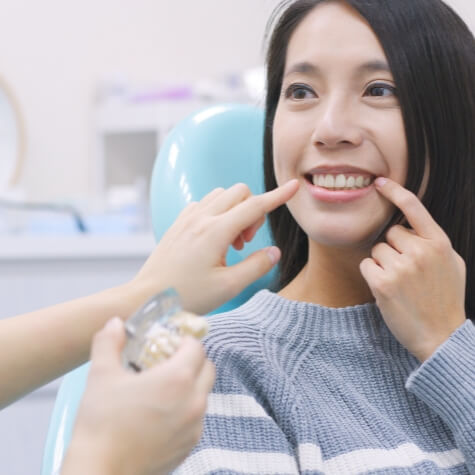 Compared to traditional methods of replacing missing teeth, such as dentures and dental bridges, dental implants provide benefits that are uniquely their own. For example, dental implants can:
Remain securely in place without adhesives.
Restore the chewing power that you had before tooth loss.
Prevent your jawbone from breaking down.
Last for 30+ years on average with the same daily maintenance used for natural teeth.
Who Dental Implants Can Help
Each dental implant treatment is fully tailored to meet a patient's specific needs, including the number of teeth that need to be replaced. Whether you've lost one, several, or even all of your teeth on an arch, there's a way that Dr. Cha can bring back your complete smile with dental implants. As long as you're a generally healthy adult, we can most likely use dental implants in one of the following ways:
Missing One Tooth
We can fill the space left by a single missing tooth by vertically placing a dental implant in the spot and then attaching a porcelain crown on top. This solution is actually more conservative than a dental bridge, as it doesn't require any healthy enamel to be removed from your remaining teeth.
Missing Multiple Teeth
If you're missing multiple teeth, you don't have to get an implant for each individual tooth. Instead, we can secure a dental bridge or partial denture onto a small number of strategically placed implants to bring back several teeth at the same time without sacrificing any existing tooth structure.
Missing All of Your Teeth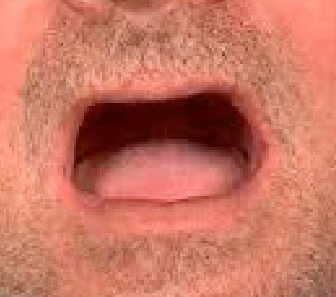 For patients with full-arch tooth loss, we can position just four to six implants throughout the jaw to anchor a denture that stays in place at all times. Implant dentures look and feel 100% lifelike, making them ideal for patients who are frustrated with their current dentures.
Understanding the Cost of Dental Implants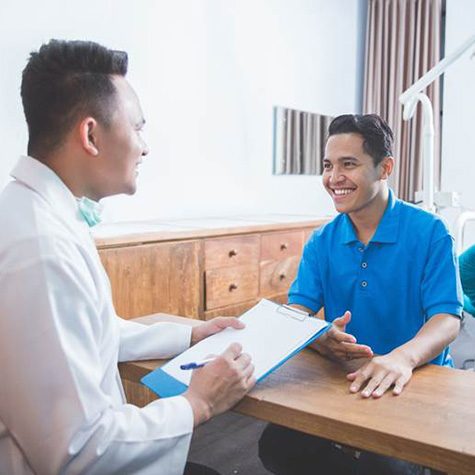 Because of the customizable nature of dental implant treatment, it's impossible for us to give you an accurate cost estimate until we've had the chance to go over your unique circumstances. So many variables come into play, such as the number of implants you need and whether you'll require preparatory procedures before dental implant surgery. Our team will review these factors and how they'll affect your total treatment costs. We'll also discuss your payment options, including CareCredit financing and our in-house dental membership plan. Below, you'll learn more about what to expect.
Preliminary Treatments & Dental Implant Surgery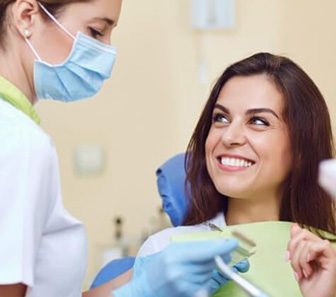 If you have any pre-existing oral health conditions, you may need to undergo certain preliminary treatments before getting dental implants. Services like gum disease therapy, tooth extractions, and bone grafting are commonly performed to get smiles ready for implants.
You should keep in mind that these procedures will add to the overall cost of your treatment. Of course, they're necessary to ensure the success of your new grin in the long term. Some are partially covered by dental insurance anyway, meaning you don't have to worry about making a big dent in your bank account!
It's also worth noting that dental implant surgery has a cost of its own, which is normally affected by the location of the surgical site and the type of sedation needed. Since the entire dental implant treatment can be completed right here in our very own office, you don't need to work with an outside provider and pay separate bills.
The Parts of Your Dental Implant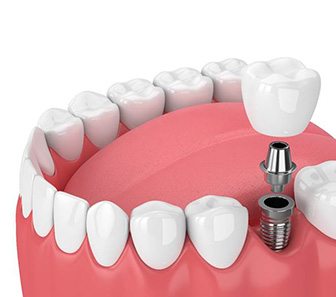 The overall cost of getting dental implants in McKinney is affected by several factors. Some of those include:
Number of Dental Implants: As you can imagine, replacing a single tooth will cost less than replacing four to six with an implant denture. However, an implant denture is far more cost-effective than replacing each tooth individually.
Type of Restoration: Crowns, bridges, and dentures each cost a different amount. The smaller the restoration is, the less expensive it'll be.
Size or Material: Implants made of zirconia typically cost less than those made of titanium.
Brand: You may be surprised to learn that there are different manufacturers that make implants differently to cater to the unique needs of certain patients. Make sure you ask about brand-specific benefits to find out how they will affect the total cost.
How Dental Implants Can Save You Money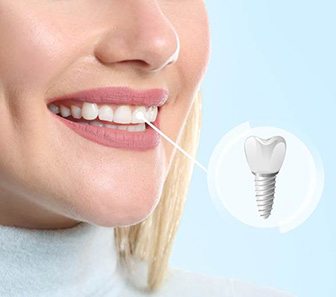 Some patients are tempted to save money by choosing traditional dentures or bridges over implants. Although dental implants have a larger one-time cost, they end up paying for themselves in the long run. For example, you don't have to worry about paying for replacements or adjustments every few years like you would with other tooth-replacement options. In addition, there are no special products you need to purchase for maintenance. Caring for dental implants is as easy as caring for your natural teeth!
Does My Dental Insurance Cover Dental Implants?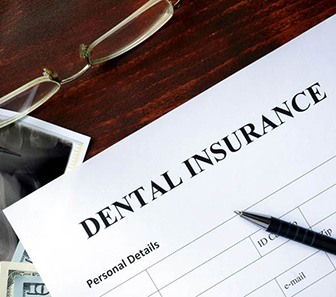 Most dental insurance plans offer some form of coverage for dental implants. While the implant itself may not be covered, parts of the final restoration or certain preliminary treatments are eligible for coverage. During your consultation, our team will review the details of your plan to figure out the best way to maximize your benefits.
Making Dental Implants Affordable
Don't have dental insurance? No problem! We offer additional financing options to help make your treatment as affordable as possible, such as:
CareCredit Financing: With this option, you can split up the total cost of your treatment into smaller monthly installments that fit your budget. Best of all, there's often little-to-no interest attached to these payment plans.
In-House Membership Plan: For a simple requisite membership fee, you can get access to discounts on many services, including those that aren't usually covered by insurance. You can essentially enjoy the benefits of traditional insurance without the red tape!